INTRODUCING THE DEVO W/PICKUP
LOOKS WEIR'D. HANDLE IT.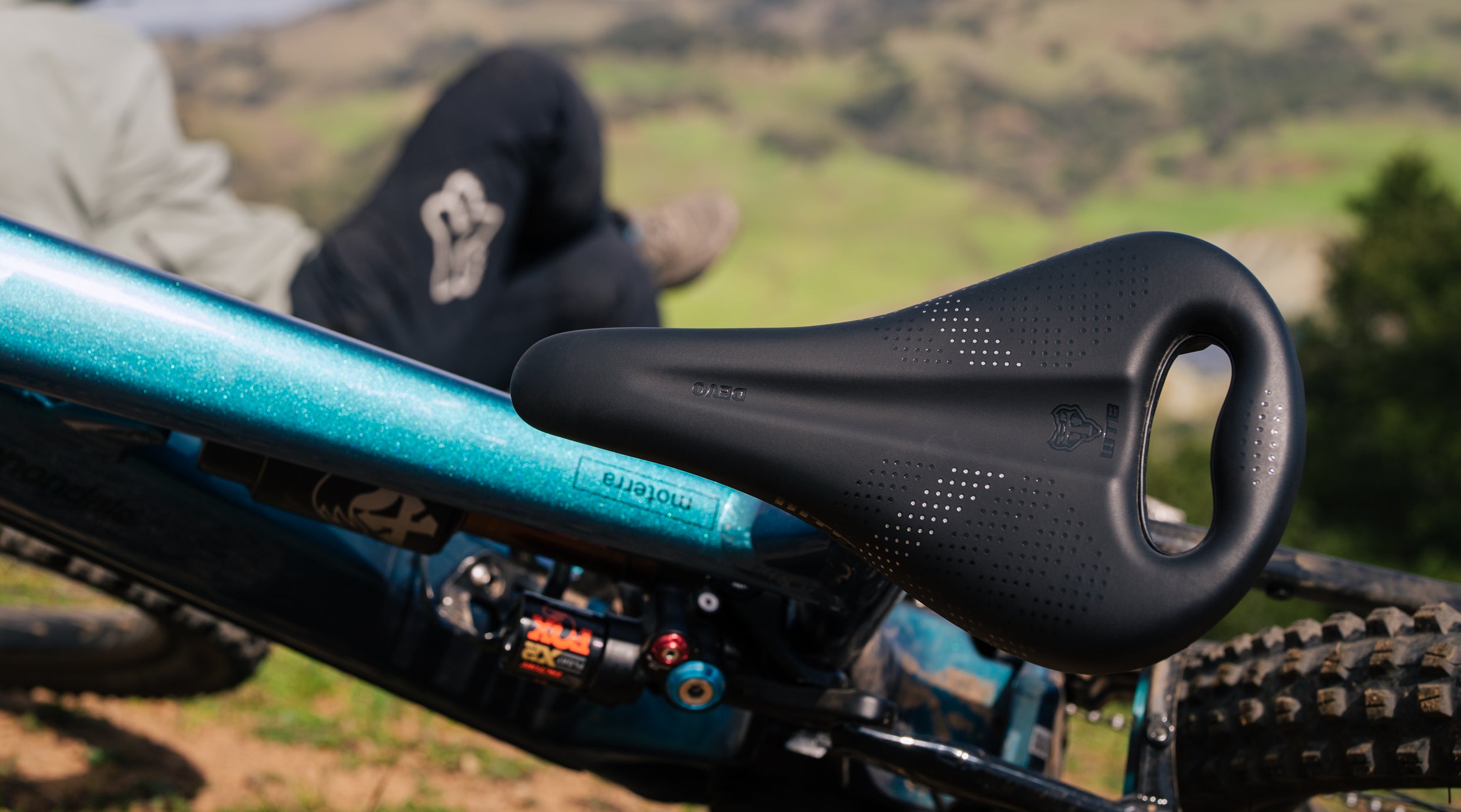 WHAT'S UP WITH THE HOLE!?
Our patented Pickup handle provides a simple yet effective way for riders to lift and maneuver e-bikes while also serving as a useful grab point while pushing up rough sections of trail.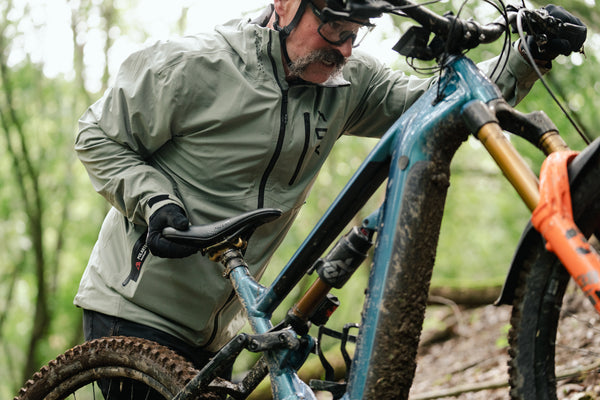 PICKUP HANDLE FOR HEAVY LIFTING
The additional weight of e-bikes creates new challenges when it comes to lifting your bike onto a rack, moving it around the garage, or hoisting it over rocks and roots on unrideable sections of trail. The new Devo saddle solves this problem with its patented Pickup handle, which aids in lifting or pushing an e-bike in both transport and on-trail situations. While we designed and tested the Devo specifically for e-mtb, its Pickup handle has also proved helpful for urban riders who load their bikes up with groceries or other heavy loads.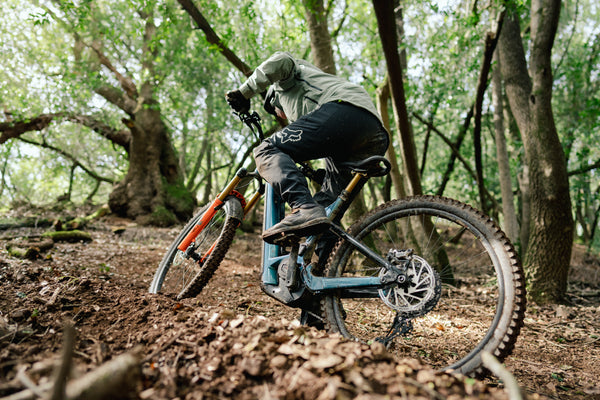 UNNOTICEABLE WHILE PEDALING
While it may look like the hole interferes with where you sit on the saddle, we strategically placed Pickup behind the sit bone contact area to make it completely unnoticeable while pedaling. We've confirmed this through hundreds of hours of ride testing and pressure mapping. Pickup provides an easy way to lift, push and transport your e-bike without sacrificing any pedaling comfort in the process.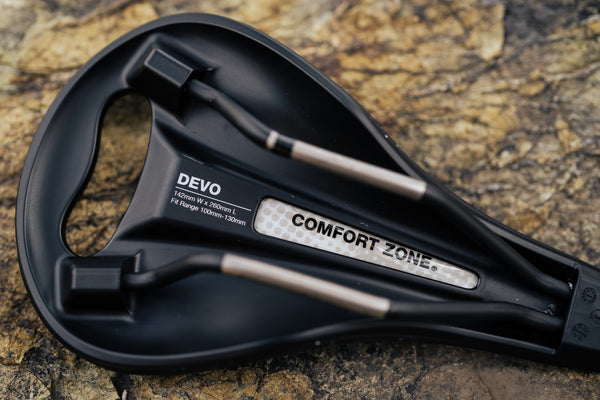 NEW FUSION FORM BASE
Our new Fusion Form base technology allows us to fine-tune the amount of fiber infused into the nylon of each specific saddle model to create a flex profile that balances comfort, support and durability to match the intended use of a saddle. E-mtb riders tend to remain seated over technical, jarring terrain that a rider on a traditional bike would likely stand up to pedal through. We reduced the amount of fiber in the Devo's Fusion Form base, which improved base flex and damping to make it more forgiving and comfortable while pedaling over rough terrain.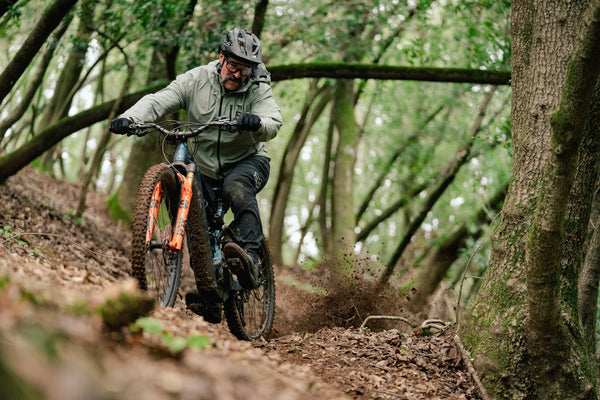 REQUESTED BY WEIR. MADE FOR WEIR.
"I don't notice the hole in my saddle until I need it. I thought I'd notice it while pedaling with the saddle dropped a bit but even then it disappears beneath you. That's coming from somebody with a big ass! Asses may vary. Probably suggested by 9 out of 10 e-bikers."

- Mark Weir, e-bike aficionado who needs no introduction.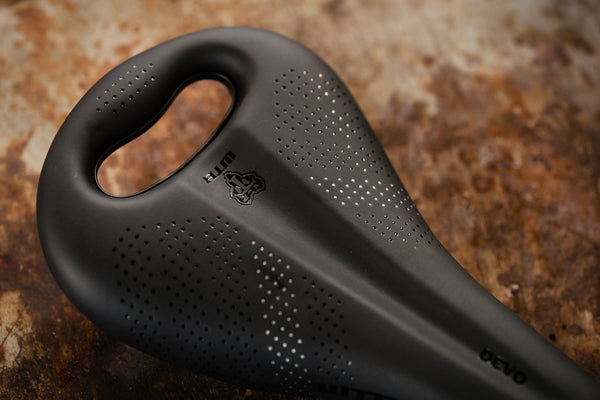 ONE WIDTH. TWO PADDING OPTIONS.
The Devo is available in a Medium (142mm) width, which is designed to best fit riders with sit bones that are 100-130mm apart. Versions of the Devo with cromoly or stainless steel rails feature our HLX padding, while the model with titanium rails features our premier DNA padding. HLX padding is plusher than our DNA padding, which makes it a great option for those who prioritize squishiness rather than weight savings. DNA is our high-performance padding that holds its shape incredibly well to provide unbeatable comfort and support on long rides while also minimizing saddle weight.